Learn how to become a flight attendant in Nigeria by reading this guide. All information ranging from the duties of a flight attendant, job requirements, all that you need to know before applying for your job as a flight attendant will be discussed in this article.
Becoming a flight attendant in Nigeria is much more than just sharing drinks to passengers. You need to be really hardworking to succeed as an attendant. The main responsibility of a flight attendant is to ensure the safety of the passengers and the crew.
The Nigerian Aviation industry currently have twenty Airports and about 23 active domestic airlines. It is important to note that in learning how become a flight attendant in Nigeria , it takes a lot of hard work, experience and passion.
While the basic or main duty of a flight attendant is the ensure the safety of the crew, they also respond to the needs of the passengers and also ensure that passengers follow the federal aviation rules.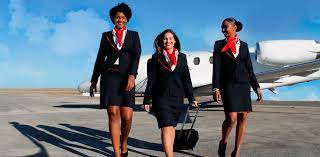 The requirements on how to become a flight attendant in Nigeria become a flight attendant or air hostess varies from one airline to another. However, some general requirements are noting noting before applying to become a flight attendant.
How to Become a Flight Attendant in Nigeria
Below are the general requirements to successful land your dream job as a flight attendant in Nigeria.
Have a Senior Secondary School Certificate
The minimum requirement to become an air hostess in Nigeria is a secondary school certificate. While this is the minimum academic requirement, have a higher qualification such as a degree in customer service, hospitality or human relations will give you a higher edge over others.
Read Richest Musicians in Nigeria
Meet the Physical Requirements
Most airlines in Nigeria have specific physical requirements when hiring. They also require attendants to be able to sit in a jumpseat and complete a range of physical tasks, like pushing, pulling, bending, and lifting with reasonable accommodation.
Most airlines do not accept tattoos and visible scars, you should also have love for make up, ability to dress elegantly are all requirements to become a flight attendant in Nigheria.
Customer Service skills
Even though airlines provide training on customer service, previous experience in a field with customer service is much appreciated.
You will need excellent communication skills, because you will spend a lot of time interacting with passengers and other members of your flight crew.
Read Davido net worth
Stressful situations call for strong customer service and problem-solving skills. Good listening skills will allow you to understand and meet customers' needs.
How to Become a Flight Attendant in Nigeria
Apply for the Job
After going through the above requirements and is satisfied that you fully qualify for the job, go ahead and a submit your application to a vacant job as a flight attendant.
Attend the Airline Training School
the next stage of how to become a Flight attendant in Nigeria ia to attend the airline training school.
Once an airline hires you, the company will provide formal training at its flight training center. During the three to six weeks you will spend there, expect to receive classroom instruction on flight regulations, job duties, and company operations.
Airlines will typically arrange for lodging and transportation to the training center, but you may be responsible for meals. Training may be paid or unpaid, depending on the airline.
Along with the other new hires, you will learn how to handle emergencies, including procedures for evacuating an airplane and operating emergency equipment such as evacuation slides, oxygen masks, and flotation devices.
Read Wizkid net worth
As you near the end of your classroom instruction, you will take practice flights, and you will be evaluated on your skills.
Get Nigerian Civil Aviation Authority Certification
After undergoing the mandatory training provided by the airline, the company will apply for your certificate of demonstrated proficiency.
How much does it cost to be a flight attendant in Nigeria?
There are several schools in Nigeria that offer training of flight attendants. After the training, all candidates must write and pass the licensing exams by the NCAA before they can apply for jobs. The cost of fees for training a flight attendant ranges from N350,000 to N500,000 depending on the school.
What are the requirements to be a flight attendant in Nigeria?
Among the main points noted above, one needs to also take note of the following to successfully become a flight attendant in Nigeria.
Good physical and mental health
Be physically appealing
Have a minimum of Secondary school certificate
Have a valid travelling passport
Fluent in at least two foreign languages
Have good interpersonal relations
How Long does it take to become a flight attendant in Nigeria
On the period it will take to become a flight attendant in Nigeria varies. You need a secondary school certificate and a degree in hospitality, human relations or communication which will usually take about 7-8 years, for the flight attendant training school, it takes a maximum of 6 months.
What is air hostess salary in Nigeria?
Generally, Air hostesses in Nigeria get paid between N100,000 and N300,000 monthly and this is based on the airline they work for. The figure quoted however, does not include allowances and bonuses which could see the salary to vary slightly.
Can a married girl apply for air hostess?
most airlines usually require that at the time of applying for the job, Flight attendants should not be married.
Can air hostess get pregnant?
A flight attendant can only become pregnant only after a certain number of years in the job. Most airlines prefer 4 years of work before a flight attendant can become pregnant.
Summary of How to Become a Flight Attendant in Nigeria
To become a flight attendant in Nigeria, you need to meet the basic general requirements. In addition to all the above mentioned. One has to develop a liking for the job as it is a very demanding job.
Read Aliko Dangote Private jet, Cars and houses
You would have to put up with a lot of different people with different behaviors.
Thank you for reading How to Become a Flight Attendant in Nigeria, let us know in the comments below what you think of this article.
Source: Glusea